Gaylord Rockies Hotel BizJournals
After an aggressive construction schedule involving some 1,300 temporary construction workers, builders of the Gaylord Rockies Resort & Convention Center in Aurora say they are 70 percent complete and should have no problem opening by late November 2018, as has been their plan.
That fact is surprising largely because the 1,501-room hotel near Denver International Airport and its more than 2 million square feet is the largest lodging facility currently being constructed in the United States.
The $800 million project already has booked more than 627,000 room nights for conferences and meetings, beginning in February 2019 and running as far out as 2028.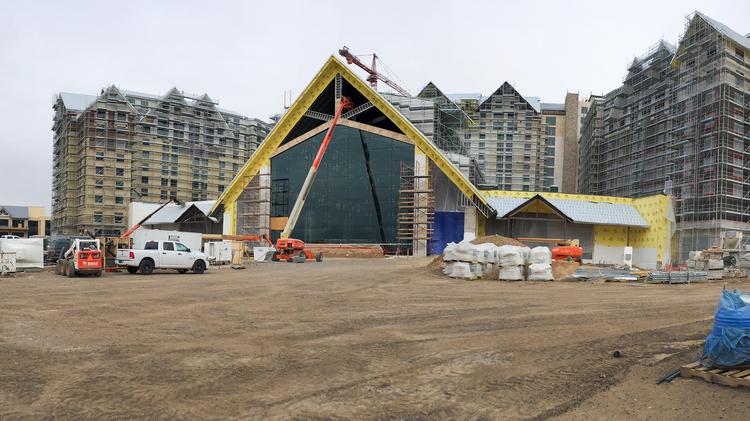 One of the key ways the developer Rida Development Corp. has stayed on schedule was by taking the unusual step of building a temporary roof on the seventh floor of its 15th-floor hotel, which allowed it to begin adding drywall and other finishes that require weather-proofing of a facility — even before its vertical construction was done.
Because of that, carpeting and tile already are installed on the third and fourth floors, which are the lowest full floors of hotel rooms, nearly a year before the first guests will tramp down those hallways, explained David Bray, Rida vice president of architecture and construction.
The company also invested heavily in its 79 subcontractors, signing on five different drywalling firms and two separate electrical subcontractors to ensure that it did not fall behind in its plans. Bray estimated that Rida is spending about $20 million per month on construction.
"For them to find qualified labor was probably our biggest challenge," Bray said Thursday while giving a tour of the facility to a group of media. "But we control our own destiny."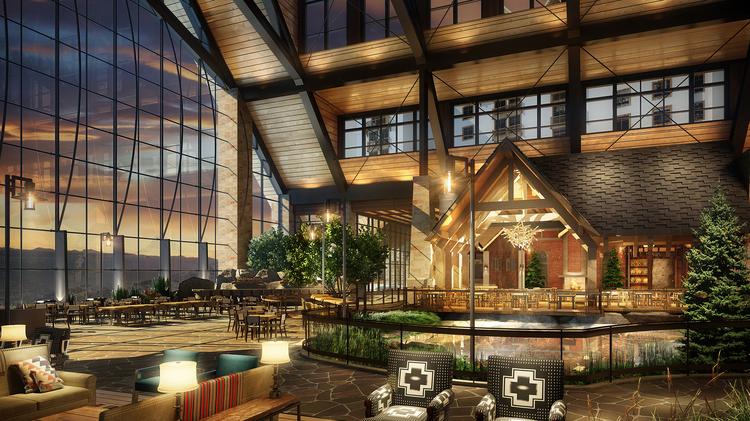 The Gaylord Rockies is both the most anticipated and most controversial of the myriad hotel projects that will bring a combined 7,360 new rooms to the Denver metro area in 2017 and 2018.
Aurora leaders note that 85 percent of the groups booking rooms in the facility are groups that have not held conventions in the Denver area previously, bringing a huge economic boom to the area.
But downtown Denver hotel leaders fought the project in the courts of both public opinion and law, complaining especially that the $81.4 million in state Regional Tourism Act tax credits that it will receive represent a subsidy to their competition using their own tax dollars.
The hotel will offer a host of amenities intended to attract business.
There will be 485,000 square feet of meeting and event space, include a 50,000-square-foot column-free ballroom that can accommodate groups of as many as 4,000 people.
The Arapahoe Springs area that will feature a 40-foot water slide, a lazy river and an indoor pool will be open year-round to guests, with the outdoor pool and river heated to be palatable to visitors even in the winter.
Eight restaurants, ranging from a steakhouse to an around-the-clock market, will treat guests, with most of them centered around the Grand Lodge, a meeting area with a nine-story glass window offering views on clear days of the 22-mile distance between the hotel and downtown Denver.
Bray said hotel leaders specifically are excited about the two-floor, 484-seat Mountain Pass sports bar, which will feature a 75-foot-long, 14-foot-tall LED screen and bathroom urinals made of recycled beer kegs.
"There's a lot of fun stuff we're doing in here," Bray said.
He added that Rida has 130 additional acres around the 85-acre hotel property on which it will develop retail, restaurants and other uses. That planning, however, is in the very early stages, and construction on those buildings won't begin until mid-2019, after the hotel is up and running, he said.


Source: By Ed Sealover – Reporter, Denver Business Journal
Updated
https://www.bizjournals.com/denver/news/2017/12/07/gaylord-rockies-hotel-construction-is-70-complete.html
Author:
Jim Cavoto
Phone:
720-625-1688
Dated:
February 20th 2018
Views:
1,863
About Jim: ...